Gut Health Nutrition Services
Find the Support You Need to Improve Your Gut Health Naturally
Gut Health Nutrition Services
Find the Support You Need to Improve Your Gut Health Naturally
Gut Rehab Signature Nutrition Counseling Program
You've tried everything under the sun – elimination diets, medication, standing on your head while weaving a basket (joking… kind of) – to gain freedom from your gut issues and have nothing to show for it other than time and money spent on things that don't produce results.
I can help you go from confused to confident in your gut health nutrition plan. Partner with me as your gut health nutrition specialist for six months and receive personalized support and guidance the whole way through. You don't have to continue feeling frustrated, hopeless, and overwhelmed. Let's get you feeling like the vibrant, confident, and THRIVING woman you are!
The Gut Health Game Plan Quick Start Gut Test
Are you experiencing heartburn, gas, bloating, constipation, acid reflux, and/or constant diarrhea after eating? I have seen how negatively my private clients' symptoms have impacted their lives, and I know how frustrated you likely are in your search for answers. So stop guessing – test!
Find out WHY you're experiencing these symptoms, and get a gut health nutritionist to help you lay out a fully personalized plan to help you kickstart your gut health transformation, relieve the digestive issues, and show you how to heal 👏 your 👏 gut 👏 naturally 👏. This package is a lower commitment of both time and finances than my 1:1 Gut Rehab program.
Gut Rehab Signature Program
Virtual Nutrition Counseling
You are unique! And so should be your approach to healing your gut. Gut Rehab is my signature virtual nutrition counseling program. This program brings you the perfect combination of a completely personalized plan totally unique to you alongside comprehensive (but always fun!) training. My trainings teach you how to eat for gut health with the support of a vibrant, encouraging community of fellow gut health rehabbers so you can feel better as quickly and completely as possible.
​
My time-tested approach has helped hundreds of people like yourself. You've already tried taking the doctor's prescribed Rx. You've been experimenting with gluten free foods. You've even tried fad diets in hopes they might be the cure for your heartburn, gas, bloating, constipation, acid reflux, and/or constant diarrhea after eating. Yet, you have nothing but wasted time and money and those pesky digestive health issues are still there.
​
If this is you, it's time to get serious and commit to taking intentional action to get better. Your health is worth it, and there are solutions to your problems – and I know what they are!
What's included:
→ Personalized 1:1 sessions 1x/month
→ Personalized gut testing package
→ 6 month access to my Gut Rehab Community
Access to my signature Gut Rehab Course
Access to gut-directed hypnotherapy
2x/month live Zoom Q&A sessions
Messaging access with Katie
Meal plan access
Payment plans starting at $400/month
What's it like working with me?
Connect The Dots
I look at your whole story, from beginning to today, and connect the dots. I notice the details that others have skimmed over. Our bodies are systems of systems, and your symptoms tell a story about what has gone awry.
Make a Game Plan
This is your story, and you are a partner in making a plan to get your gut health rehabbed. I use my scientific training and experience as a clinical nutritionist, while you bring your intricate knowledge of yourself to the table. With this combination, we come up with a personalized gut health nutrition plan unique to your health goals.
Rehab Your Gut
This is the "meat and potatoes" of our work together! We implement the game plan we created together, breaking it down into pieces that get you excited and motivated to move forward, and making adjustments as needed. Through this gut rehab, we focus on gut health nutrition, plus environmental and lifestyle factors that need to be adjusted to get you feeling like your best self.
Do A Happy Dance!
Once your gut starts healing naturally, you'll feel better than you have felt in years. So good, you might just have to get up and do a happy dance – or several!
The Gut Rehab Framework
Here's a sneak peek into how my virtual nutrition counseling program can transform your gut health and your life using these four steps to reach a confident, rejuvenated, inspired, thriving life!
Are you ready to start thriving again?
I can help you relieve your digestive system issues and reach your health goals… for good! The first step is requesting a Nourished Clarity Call. During this complimentary call, we will assess where you are currently at, envision where you would like to be, and get an understanding of what you need to do to get there before deciding if I am the best fit for your gut health transformation. I can't wait to get to know you better.
The Gut Health Game Plan Quick Start Gut Test
Are you experiencing…
Indigestion and bloating after eating anything
Constant diarrhea, constipation, or a mix of the two
Skin issues like eczema, psoriasis, and acne
Hormonal imbalances
Anxiety and/or depression
Daily fatigue
Weight gain or weight loss that is difficult to manage
All of these symptoms are all linked to gut function, and you aren't alone! If you're like almost all the people I have spoken with and helped over the years, you've tried everything under the sun – elimination diets, doctor-prescribed medications, long nights doom scrolling through forums in hopes of stumbling upon an answer to your digestive problems. And all those things have gotten you is more time feeling crummy. I have seen how negatively my private clients' digestive issue symptoms have impacted their lives. I know how frustrated you are in your search for answers.
​​
So don't guess anymore – TEST!
​
Gut testing will help tell us WHY you're experiencing the digestive system issues you are dealing with. From there, a gut health nutritionist, like me, can help you lay out a plan to truly heal your gut.
What's included:
→ One personalized gut testing package
→ One 1:1 session to go over test results and make a game plan
→ Exclusive invitation to join my Gut Rehab Community
A one-time investment of $1250
Payment plans starting at $697

There are four simple steps in my Gut Health Game Plan.
Sign up for your very own Gut Health Game Plan! I will send a functional gut test kit that will arrive at your door in just a few days! You can complete it in the comfort of your own home and send it back with a prepaid shipping label. Once back at the lab, this gut testing kit is equivalent to Magic School Bus-ing ourselves directly into your gut to get 99% accurate info detailing the good and bad of your gut health.
Meet with me for a 1:1 online nutrition counseling session for 90 minutes to go over your results. This is a lot of info to digest (see what I did there?) So I will help break it down for you. You'll be amazed at what you learn about your body! During this clinical nutrition session, we also spend some time creating a clear vision of what you want to accomplish on your gut health journey and develop a personalized nutrition plan to help get you back on track.
Leave our virtual nutrition counseling session feeling excited and confident! You have a Gut Health Game Plan that includes everything you need to DIY your gut health. Your personalized gut health nutrition plan incorporates​:
Nutrition supplements
Lifestyle modifications
Meal plan suggestions
Messaging access to Katie for 1 month after the 1:1
Shake it, Sister! You can start implementing your Gut Health Game Plan immediately and at your own pace via my course and bi-monthly group coaching sesions. Go ahead – do your happy dance as you start on your path to total gut health! Cha cha cha!
Do you want your own personalized Gut Health Game Plan?
This gut health nutrition plan can help you relieve your digestive system issues and reach your health goals on your own time. Simply sign up for the Gut Testing Kit and you'll be on your way to total gut health!
Frequently Asked Questions
Do you accept insurance?
The work I do is very high touch and hands on. I do not accept insurance because they currently do not reimburse for services like the ones I provide. I am able to accept payment from health savings accounts and am also happy to provide any billing documentation you need to submit for possible reimbursement through your insurance company.
What forms of payment do you accept?
I accept all major credit cards including cards associated with HSA/FSA accounts.
Do I have to live in Texas to work with you?
While I strongly believe the lone star state is the best of the best 🤠… you do not have to live in Texas for me to help you. I provide virtual services, which allows us to work together remotely – isn't technology great?
What is the difference between Gut Rehab and the Gut Health Game Plan?
The Gut Health Game Plan is a lower commitment plan – both of time and finances – you walk away with a clear plan, but you are flying solo on the implementation of that plan.
Gut Rehab is my signature program – it is very high touch, very personalized, and gives you the most support over 6 months work with Katie. The two of us become true partners in your gut healing journey – we adjust, improve, and expand your plan along the way to ensure the biggest transformation possible.
How long does it take to see an improvement in my symptoms?
Your body is unique, your symptoms are unique – and so is your healing time! Many many factors are at play here. However, I can say that most all of my Gut Rehab signature program clients experience significant improvement in symptoms within 2-3 weeks of implementing their gut health blueprint.
Is the cost of the gut health test included in the Gut Health Game Plan?
Yes! When you purchase a gut health game plan, everything you need to get your personalized game plan is included!
What is the difference between a nutritionist and a dietitian?
I'm glad you asked! There is no set standard for the title of "nutritionist". Different programs have different criteria, and all use the same "nutritionist" title at the end of the training. So while there are some fantastic nutritionist certification programs out there, you don't know exactly what you're getting. Registered Dietitians are board certified through the Commission on Dietetic Registration. We all have to successfully complete a college degree in nutrition science, along with an internship, that meets certain criteria and pass a board examination before we can use the title Registered Dietitian Nutritionist (RDN).
Dietitian-Approved Supplements & Vitamins
I am a dietitian, and nutrition is the cornerstone of my work with clients. However, oftentimes when your digestive tract is compromised, food isn't quite enough to take you over the finish line and achieve the transformation you're looking for. Supplements do just that – they "supplement" the nutrition changes you are making to boost your results. I've seen amazing results in my clients' symptoms and gut function when they follow my combined approach of lifestyle, nutrition, and supplement recommendations.
However, just as we have to be diligent about the food that we put in our body, we also must be diligent with supplements. Many supplements you purchase from grocery and drug stores or direct-to-consumer websites may not have the quality you need to get the results you're working toward. Oftentimes, supplements contain synthetic ingredients that your body can't use as effectively or fillers that may actually make your gut health worse.
Maybe even more importantly, there is a big question mark around the topic of quality. Supplement regulations are tightening up, but have been very lax for a long time – meaning you can't be confident that what you're buying off the shelf is actually what you think you are buying.
The solution? Go with a professional grade supplement. I only recommend the highest quality scientifically-formulated brands with proven efficacy. To place an order please visit this link or set up an initial consult session with Katie to discuss personalized recommendations. Your order will ship directly to you.
Fullscript's mission is to change the way health and wellness is prescribed by working with cutting edge practitioners, quality-focused suppliers, and patients who refuse to accept the way conventional medicine is prescribed.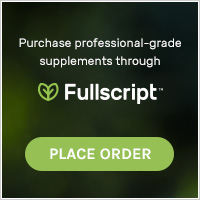 Non-Toxic Beauty Care and Your Health
Chronic illness is on the rise, and evidence has shown that our ongoing exposure to chemicals plays a role.
The last major regulation changes to personal care products have not been made since 1938 – since then over 80,000 chemicals have been introduced into commerce. Many ingredients used in our personal skincare products have minimal safety data, and some are even known to be hormone disruptors or carcinogens.
Beautycounter's mission is to get safer products into the hands of everyone. They make beautiful, effective personal care products that are free of any potentially dangerous ingredients. Not to mention, this one-stop personal care shop advocates for change in Washington. Click the links below to learn more, browse products, or join me on this mission for change!